Why to choose Oracle Commerce Cloud?
In the current market scenario, the retailers must leverage technology and the latest ecommerce platforms to grow their online business. Cloud solutions can help the business owners to transform their processes and reach the optimum growth.
The Oracle Commerce Cloud is among the most sought after Ecommerce Cloud solution. It is built on the powerful software-as-a-service (SaaS) architecture, derived from Oracle's on-premises product, Oracle Commerce. The Oracle Commerce Cloud enables merchants to focus on the business and innovation, while liberating them from the hassles of upgrades, security patches, and coordination with the third parties.
Why to Choose Oracle Commerce Cloud-
• Standardized, Web-based Administrative Tools
Oracle Commerce Cloud provides a complete web technology stack for enhanced client-side capabilities and employs modern, open, standardized codebase in HTML5, CSS3, and JavaScript. It's user-friendly and highly intuitive drag and drop components are included among the admin tools for easy web page development. Oracle Commerce Cloud also provides direct access to HTML through a WYSIWYG editor.
A business user can easily extend the catalog structure by adding new product attributes. They can also change the layout/ design of the page themselves without any support from development team.
• API-first Architecture
The Oracle Commerce Cloud is designed with an API-first approach. It implies that all the functionality of the storefront as well as the admin tool are available via RESTful web services.
Oracle Commerce Cloud also supports Webhooks and prebuilt plugins with Oracle Sales Cloud, Marketing Cloud, CPQ Cloud, Service Cloud, Retail Order Management System, and many other third-party app and platform providers. Numerous other solutions, such as NetSuite, Salesforce, SAP, Ariba, Facebook, Twitter, and more are available through Integration Cloud Service (ICS). These pre-built, extensible integrations are available for immediate use as-is in a rich point-and-click, browser-based design to accelerate your time to market.
Oracle Commerce Cloud's modern REST API architecture helps businesses integrate existing applications and develop new systems, offerings, and strategies without changing backend systems.
• Out-of-box Responsive Storefront
Oracle Commerce Cloud is designed for mobile-first experiences with flexible grids, layouts, and image optimization capabilities.
• Fast, Stable, Scalable Commerce Technology
The development and deployment of a fully functional, responsive and modern ecommerce website can be done in a matter of a few weeks with this platform.
• Predictable Ecommerce Costs and Profitability
Oracle Commerce Cloud offers two pricing models to accommodate a larger variety of businesses. There is a revenue-share model as well as a usage pricing model that's a tiered pricing structure based on annual storefront page views.
• Native A/B Testing
The Oracle Commerce Cloud is the only enterprise-level commerce platform with native A/B testing capabilities. Businesses can make immediate site improvements based on the insights from a unified data.
• Complete Customer Experience (CX) Suite
Commerce Cloud is capable of integrating with the full CX Suite – including Marketing Cloud, Sales Cloud, and Service Cloud.
Oracle commerce cloud is part of a smarter CX suite that leverages AI, along with Adaptive Intelligent offers. This ensures that your customers are delivered only personalized, relevant content, offers, and products. Oracle Commerce Clouds enables this without writing complicated rules or leveraging data scientists.
• Defined PaaS & Managed Integration Strategy
Oracle's Integration Platform as a Service ensures that all the integrations are carried out and maintained. This permits the business owners to focus on innovation and business growth.
• Secure Platform
As Oracle Commerce Cloud is modern SaaS, Oracle is responsible for almost all levels (PaaS, SaaS, and IaaS) of security operations to protect data including: Apps, OS, Virtualization, Network, Infrastructure and Physical.
• Storefront Features
The Oracle Commerce Cloud storefront supports 35 languages and 60 global currencies! It also boasts several pre-integrated features, as shown in the diagram below-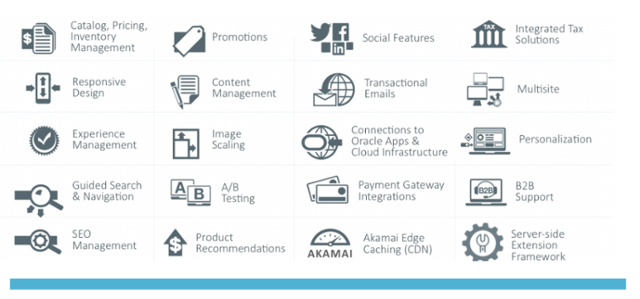 These reasons make Oracle Commerce Cloud a compelling choice for Retailers.
SynergyTop has deep expertise and vast experience in the Oracle Commerce Solution Suite; both on-premise and cloud. We have built feature-rich Ecommerce website using the Oracle Commerce Solution Suite. Click here to know more!
Write to us if you are planning to move your Ecommerce business to Oracle Commerce Cloud.