Why ERP and Ecommerce Integration is a good idea?
As per the Statista Report 2017, the B2B Ecommerce business has reached $7.7 Trillion, whereas the B2C revenue is worth $2.3 Trillion.
The Ecommerce business is getting more competitive every passing day with a new player emerging in the already crowded market every other day. The challenge is not only to attract new customers but also to retain the existing customer and make them buy more. On the other hand, the customers are demanding more in the way of faster deliveries, intuitive user experience, single-click checkout, comfortable return policies. They also want to access their shopping cart on various devices that they have access to at that moment.
There is no place in the fast-paced ecommerce business for disconnected backend systems. Integrating your Ecommerce Business with your ERP system will give you an access to all the pertinent information, such as inventory, financials, HR, manufacturing, and so on. It also tracks information like pricing, payment and shipping details for each of your customers. Furthermore, I will advise you to integrate not only your ERP systems, but also your CRM, Social Channels and Payment Gateways to offer a cohesive and seamless shopping experience to the end user.
How does it help?
An integrated e-commerce platform leverages the information, relationships, catalogs and categorization already present in the ERP system and makes it accessible anytime, anywhere. This integrated system simplifies you can manage the warehouse operations, fulfillment, back-office operations, financials, e-commerce, PIM, customer service for your Ecommerce Business. It also eliminates the possibility of human-error and data discrepancies.
Another benefit that I would like to highlight is the ease of going Global. If you are planning to expand your Ecommerce Business to other countries, an integrated ERP system allows you to provide multi-currency and multi-lingual support.
Listing down a few more benefits-
Immediate updates of any changes in price and product quantity
Accurate inventory
Faster and better communication with customers with respect to shipping notifications, ability to track shipment, and delivery updates.
Reduce the time between order placement and shipment
How SynergyTop can help?
SynergyTop has deep expertise in integrating Ecommerce platforms with ERP systems. We have executed large-scale ecommerce integrations with ERP systems wherein we have helped our clients migrate pertinent data, such as, Product, Category, and Customer details to the Ecommerce portals.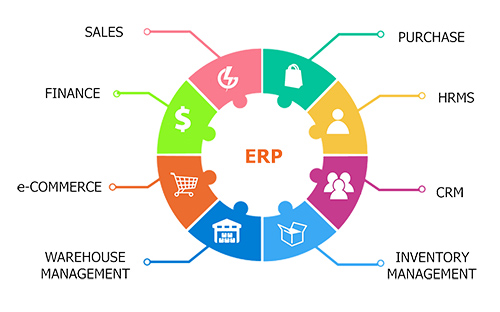 We have also facilitated real-time data sync with our client's ERP system. The client was able to access information like, Order Status, Order History, Invoice, Pricing and Product Availability of his Ecommerce portal.
Visit https://synergytop.com/enterprise-services/ecommerce for more details!