Oracle Commerce Cloud – Bringing a paradigm shift in your B2B Business
Oracle Commerce Cloud (OCC) is built using SaaS architecture and is an e-commerce solution which runs on the cloud. OCC has revolutionized managing and delivering e-commerce experience that even surpassed the more traditional on-premise version in many ways. OCC has frequent releases every few months, where it offers enhanced features & functionalities to its users. The B2B functionalities that Oracle Commerce Cloud solution offers is also at –par with the Oracle Commerce on-premise solution.
Why Businesses should invest in Oracle Commerce Cloud for B2B business?
It is important for an Ecommerce business to invest in a technology platform that can scale as per the increasing business requirements, as well as adapt to the always-changing customer expectations.
There are numerous Ecommerce solutions available in the market today that you can choose for your retail and ecommerce business. However, you would discover that not many of them would be able to furnish the user experience that you want to deliver to your clients. They would also eat up a huge chuck of your budget and time in managing the infrastructure and deploying complex implementations.
On the other hand, the Oracle Commerce Cloud would help your business by facilitating complex integrations at a lower cost and lesser time, while ensuring that you are able to focus more on your business and innovations.
Here is why you should choose Oracle Commerce Cloud for your B2B Business –
Delivered in Cloud: OCC takes the demands and costs associated with the infrastructure, upgrade and customization. It lets the businesses focus on the enriching the user experiences.
Full range of features and functions for B2B Businesses: OCC B2B is a feature-rich platform that can help you successfully sell your products to other businesses. This includes account management, customer specific pricing, approval workflows, quoting, customized promotions, are a few notable features.
Real Time Updates: Oracle Commerce Clouds offers drag n drop feature that the business owners can leverage to perform website, system and back-end updates in real-time.
Best-in-class Ecommerce Platform: The B2B companies can leverage the excellent capabilities of this ecommerce platform, including, Experience Management, Personalization, Content Management, Catalog, Pricing and Promotions, Inventory Management, Shipping, Tax and Payment Gateway Integrations, and more. Oracle Commerce support 35 languages and currencies.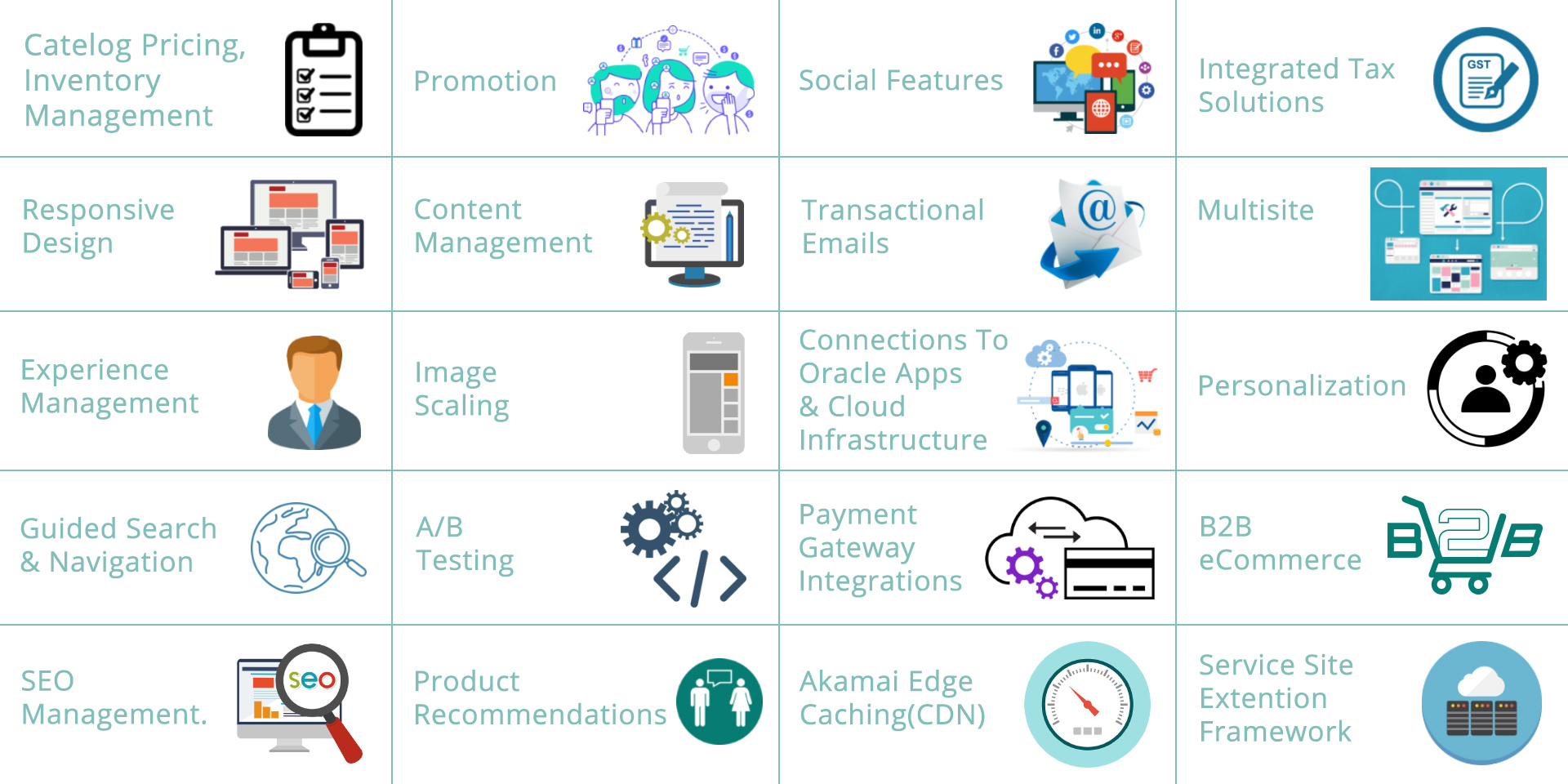 B2B and B2C in a Single–Platform: Since many businesses have both B2B as well as B2C models, Oracle Commerce Cloud simplifies the website management for businesses as it is the only SAAS solutions which supports B2B as well as B2C sales.
Modern Architecture: Allows faster, cheaper, less-complex integrations with 3rd party and other backend systems.
Extensions and the 3rd party systems?
Any E-commerce business needs various 3rd party systems to perform online transactions. Oracle Commerce Cloud solutions uses web services, known as Webhooks to enable extensions.it facilitates the server to make calls to external APIs or in a simpler language it requests and accepts data from the external sources.
For simplified Integrations, a service named Integration Cloud Services (ICS) can be used. It is a complete, light-weight and secure solution that simplifies connectivity between applications. The connected apps can be on the cloud as well as on-premise. ICS helps businesses with hassle-free and easy upgrades for their systems.
If you are interested in seeing how Oracle Commerce Cloud fits in your business, SynergyTop provides a free evaluation to analyzing how an OCC migration could work for you. Write to us at info@synergytop.com.
SynergyTop has deep expertise in the Oracle Commerce Solutions – both On-Premise and Cloud. Visit our blog section for many more interesting and informative blogs on the Oracle Commerce Solution suite.