Oracle ATG – Paving the way for a successful Ecommerce Business!
Description:
The Ecommerce Industry is engulfed in a brutal battle! While the Ecommerce players are vying for customers' loyalty, they are also trying to keep up with the ever-increasing demands for enhanced user experience, service, communication and digital experiences. The players have to retain existing customers, attract new ones and offer an Omni channel shopping experience – including brick-and-mortar, e-commerce, social and mobile commerce. A seamless integration between all these mediums is what it takes to win customers' attention and loyalty.
Many businesses have recognized this gaping hole but are still not able to cover it because of the technology limitations. Numerous integrations are needed to provide the best service and to make the most out of all the available sales channels. Many of the E-commerce platforms are lacking flexibility and scalability; and have poor integration capabilities that limit business progress.
I would recommend Oracle ATG Ecommerce suite here! It is one of the best and feature-rich options available that can address the scalability and integration issues.
What is Oracle Commerce?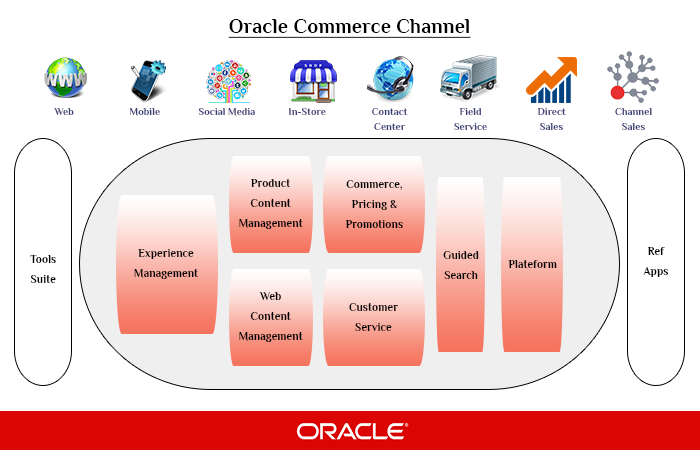 Oracle Commerce is a comprehensive product suite for creating compelling and customized commerce experiences for customers. It manages all sales channels including offline ones, facilitates launching new websites, implements customized marketing campaigns, coordinates the brand's presence on social networks and mobile etc. Oracle has a history of excellence since past 3 decades and tightened its grip in the ecommerce space in 2011 after acquiring Art Technology Group (ATG) and Endeca. Oracle has combined ATG's best Merchandizing features with Endeca's great searching capabilities to offer Oracle Commerce modules whose cloud and on premise solutions are also available.
Working of Oracle ATG
Roughly speaking, Oracle ATG Web Commerce is made up of various platform layers. DAF (base module) provides the environment for component development. The Personalization module supports dynamically changing website content that allows managing user profiles, targeted emails etc. The Scenarios module works to create campaigns for managing scenarios of customers' interaction with the website content over specific time periods. This serves as a platform for numerous applications for business use, like Oracle ATG Web Commerce Merchandising, Pricing and Promotions System, Multisite Support, Purchase Process, Inventory and Fulfillment Systems, Service Center, Reporting and Business Intelligence etc.
We utilized above most of the above features in one of our many Oracle Commerce project implementations. We developed a B2B Ecommerce portal with catalogue size of 600,000+ products. We have provided features like Merchandising, Enhanced Search, Personalization and Order Management with backend integration with JD Edwards ERP system. We have also integrated to various Payment, Shipping and Tax systems. Read More
Money Matters!
The BIG issue – Oracle ATG solution is costlier vis-à-vis the other available Ecommerce solutions. The feature-rich platform is designed to be flexible and scalable to accommodate various business demands. It has B2C and B2B modules to provide for different business models, and has multiple solutions tailored for specific requirements. You need to take a call based on the expected RoI.
Conclusion:
Oracle ATG e-commerce platform is one of the few high-end solutions that cater for the sophisticated demands of today's market. The solution takes care of each aspect of an e-commerce customer's purchase journey for the sake of driving more sales and ensuring outstanding buying experience. This, in turn, leads to higher profits, deeper loyalty and turns customers into brand advocates, which essentially is what businesses are pursuing.
About SynergyTop –
SynergyTop is one of the key players in Custom Oracle Commerce Solution suite and have helped dozens of leading enterprise brands leverage Oracle Commerce to deliver engaging, relevant and profitable retail experiences.
SynergyTop is also proficient in other popular Ecommerce Technologies, Including, Elastic Path, SuiteCommerce, Magento, OS Commerce, and so on.
Our key expertise is in integrating our customer's ERP and CRM solution suite with their chosen Ecommerce platform to streamline the business processes and enhanced user experience. We also offer specialized services in Shipping, Payment and Tax Integrations.
Click here for more details on our Ecommerce offerings.