Leverage Search Features in Oracle Commerce Cloud
Value of search for commerce:
We believe that online shoppers can be largely classified in two categories –
The first type would comprise the users who would browse your catalog and may not be searching for something specific. This would be the online equivalent to window shopping. Such shoppers may not know what exactly they are looking for. They browse through multiple categories, navigate multiple collections, view many products in a session but may not end up purchasing anything.
The second type of shoppers make use of the search feature – thereby, clearly showing an intent. These customers know exactly what they want to purchase. They would browse through categories; look for a specific product or even Sku. They make use of different parameters and filters to reach the product they are intent on buying. These buyers facilitate higher conversions.
The search feature of an E-commerce portal is indispensable to enhance conversion.

It helps in –
Improving Product Discovery process for Shoppers
Increasing the likelihood of Shopper Conversion and/or Average Order Value (AOV)
Achieving greater success and enhanced Customer Satisfaction with your Brand
Search Best Practices:
Ensure that the Search Bar is prominent and usable on all devices (Web, mobile, Tablet etc)
Use Type-Ahead feature to enable quicker searches
Use Auto-Correction so there are correct results even with spelling errors
Use Merchandising on search results to improve relevance and promote key products and content
Convert Frequently Searched Terms into FAQs
Use Images rather than only text in Type-ahead and search results
Use of Keyword Redirects and Thesaurus
1. Value of Type-Ahead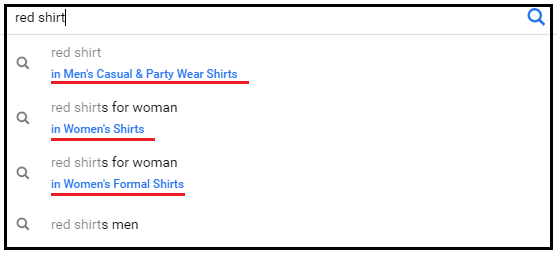 Helps avoid spelling errors
Easy navigation to the best possible search results
Promotes product and content
Simplifies the path-to-purchase
Increases the customer satisfaction and increases conversation
Saves customers' time
Customizes your results
We can determine the content that should be displayed in the suggestions. It could be category, promoted products, featured products, products from a particular brand, etc. We can also display images along with a product under suggestions box. It gives relevant results before performing a search.
We can configure the attributes that are matched for Type-Ahead using the Typeahead searchable field ranking.
2. Value of Merchandising Features
 It helps in
Promoting Key Products that are in Stock or Popular
Regulating the presentation of Products based on Shopping Behavior
Displays the products based on key criteria such as Geolocation, Customer Segment or Referring Site
Displays the products on sale during festive seasons
3. Value of Faceted Search
The Faceted Search is also an important factor in the user search experience. When the shoppers do not use the type ahead feature to perform a search, they may get more number of results. Here, the users can utilize facets to drill down the result set (Facets act as filters). Facets may include Category, Price, Color, Size etc. and are configured on the basis of business demands.
Facet Creation:

4. Value of Auto Correction:
If a shopper makes a spelling error during the Search, the Commerce Cloud corrects it automatically and gives suitable search results. It helps in reducing the possibility of showing no search results page to the shopper.
Example:
If the user types "tabal" and performs a search then Commerce Cloud autocorrects it to table and provides search results for table.
Note: This correction is purely based on the various products available in the product catalog.
5. Value of "Did You Mean":
This is not a spell correction! In this case, the user may or may not get suitable results for what he may be searching for. However, the Commerce cloud finds other keyword(s) which have many more results. The Commerce Cloud displays such keywords under the Did You Mean section of the page and the user can click on those keywords to see the results.
Example:
The user searches for Mat and he gets 1 result for Mat. The Commerce Cloud displays 2 more Keywords- "Man, Hat", under the Did You Mean section. If the user has typed mat by mistake and is perhaps interested in viewing the results for Man or Hat, then he can click the respective keyword.
6. Value of Keyword Redirects:
You can configure a keyword redirect to guide shoppers to a location in your store or an external site when they enter a specified search term. This lets you display a relevant promotional page or product category page instead of a typical list of search results.
A keyword redirect is triggered by one or more search terms; the target of a keyword redirect is a URL in your store or an external site. For example
Example:
A keyword redirect with the search term "delivery" and the URL http://shipping.example.com redirects shoppers to "http://shipping.example.com" if they use "delivery" as a search term.
7. Value of Thesaurus:
The thesaurus provides a way to include alternate terms for a shopper's search query. It lets you create the synonyms that capture other ways of expressing queries relevant to your store. You can add two kinds of synonyms to your thesaurus:
One-way thesaurus entries provide alternate ways of expressing query words or phrases that apply in a single direction only.
Example:
You could define a one-way mapping so that all queries for computer would also return matches containing laptop. However, the queries for laptop would not return results for computer. You can add unlimited number of synonyms to a one-way entry, and Commerce Cloud expands the query to search for each synonym with the same one-way relationship.
Equivalent thesaurus entries establish a mutual equivalence relationship between words or phrases. The words and phrases are interchangeable. A query for one term would also return results for all other terms.
Example:
An equivalent might specify that the phrase "notebook" is interchangeable with the phrase "laptop."
8. Value of Dynamic Curation:
Merchants can now optimize search results right in the Admin UI in a variety of ways using the new Dynamic Curation feature in Oracle Commerce Cloud. It is an easier and faster way to improve search relevancy and present the right search results to users based on a number of criteria and KPIs. It includes the ability to order search results dynamically using retail metrics – such as, product views and purchases in the last 30 days, inventory stock of a particular SKU, and catalog-specific data (e.g. product type). It also allows for combining multiple criteria together to best drive results and ability to save and preview changes immediately.
About SynergyTop
SynergyTop has deep expertise in working on Oracle Commerce Solutions – both on-premise and cloud. We have helped our client utilize this platform to create feature-rich e-commerce stores. Write to us on info@synergytop.com to discuss your Oracle Commerce requirements.